Join us, as we welcome a new Pastoral Ministry Appointment in our Diocese.

From a Memo dated: May 12, 2020

The theme of Bishop Gary Gordon's Pastoral Letter dated May 1, 2020 was "Be Ready to Open the Door" and during this Easter Season we are challenged to envision a "new life" and a "new normal" in the midst of a global pandemic.
The Government of B.C. recently unveiled its "Restart Plan" which outlined the next steps to be followed to move the province through the pandemic in four phases towards a "new normal". As we prepare to "be ready to open the door", Bishop Gary has, in consultation with the Priest Personnel Committee, made the following pastoral ministry appointment:

Fr. Claudio Holzer is appointed Administrator of St. Peter's Parish
in Nanaimo,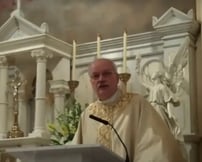 effective May 15, 2020.
Fr. Claudio, new to the Diocese, was born in Italy and is a Canadian citizen, having previously served for 30 years as a member of the Scalabrinians in Canada and the United States. We congratulate Fr. Claudio on his appointment, and bid him a warm welcome to the Diocese.
We are grateful to the priests in our Diocese who continue to respond in service to the parishes and school communities during these challenging times. Thank you to all the members of our Diocesan family, clergy, employees, and volunteers, for your support and prayers for the ongoing pastoral needs of the Diocese of Victoria as we navigate through uncharted waters in the days ahead.