This week the Canadian Conference of Catholic Bishops (CCCB) opened the first ever virtual Plenary Assembly of the Bishops of Canada, welcoming more than 80 Bishops logging in from dioceses and eparchies across Canada. The Bishops, who normally meet in person for the week, are meeting by videoconference in light of the existing health and safety restrictions regarding COVID-19. The Plenary Agenda will focus on the most essential ecclesial and administrative matters for the Conference.
As is the custom of each annual gathering, the assembly began with a message to the Holy Father and the Bishops were joined by the Most Reverend Luigi Bonazzi, Apostolic Nuncio to Canada, who delivered greetings to all Bishops on behalf of Pope Francis.
The main topic of discussion on the first day of the Plenary focused on the impacts of the Coronavirus in various regions across the country. A common theme delivered was the recognition of the far-reaching effects of the pandemic on many aspects of Church life, including: suspending liturgical celebrations; caring for the elderly and vulnerable within parish communities; finding new ways to evangelize and gather in a digital environment; and addressing the financial challenges while mitigating the loss of diocesan/parish services to the communities served.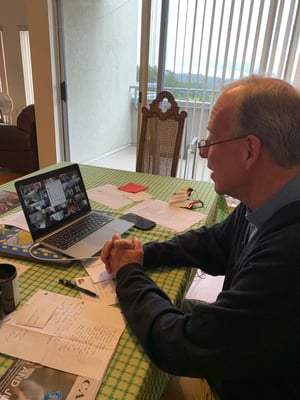 As a result of some of the challenges faced, new forms of creativity have flourished. Many dioceses and parishes embraced a greater online presence to reach the faithful of their communities. This adaptation likewise prompted an examination of how the Church in Canada can benefit from technology but ensure it is not seen as a replacement for the life-giving community experience of the liturgy and the sacraments in person. The pandemic has also served as an opportunity to discuss the role of faith in society and how the Bishops of Canada, along with other religious leaders, can work together with local and provincial officials to show its importance as an essential component of society at all times, but especially in moments of crisis.
Bishop Gary shared with the staff at the Pastoral Centre that he is delighted with the virtual format of the CCCB Plenary, for he has been able to participate remotely from the comfort of his dining room. The virtual meetings have been well managed and efficient, and he has saved time and expense by not having to travel to Ontario to participate. Further evidence that "good can come from all things" and challenges provide new opportunities to try something different.
The CCCB has provided a number of options to follow the Plenary throughout the week: