Come gather for community and fellowship!
August 17-20, 2023 at Nanoose Bay Camp
Families across the Diocese of Victoria will gather once again for a fun, faith-filled weekend of fellowship, play and prayer all in a beautiful West Coast setting. Join us! All types, ages and sizes of families are welcome. The 2-3 night camp is held at Nanoose Bay Camp (2531 Nanoose Beach Road, Nanoose Bay, BC) where you can choose to stay in a dorm, camp in a tent or bring your camper! The price includes meals, activities and your choice of dorm, tent, or RV spot. Our speaker is Paul Rossetti, the Superintendent for Island Catholic Schools. ALL FAMILIES are invited to enjoy this weekend full of fellowship, faith and fun! The weekend is sure to strengthen your family's connection with Christ, with one another, and with other families.
For more information and/or to register please email familycamp@rcdvictoria.org or visit:
https://www.eventbrite.com/e/9th-diocesan-family-conference-august-2023-tickets-593430365197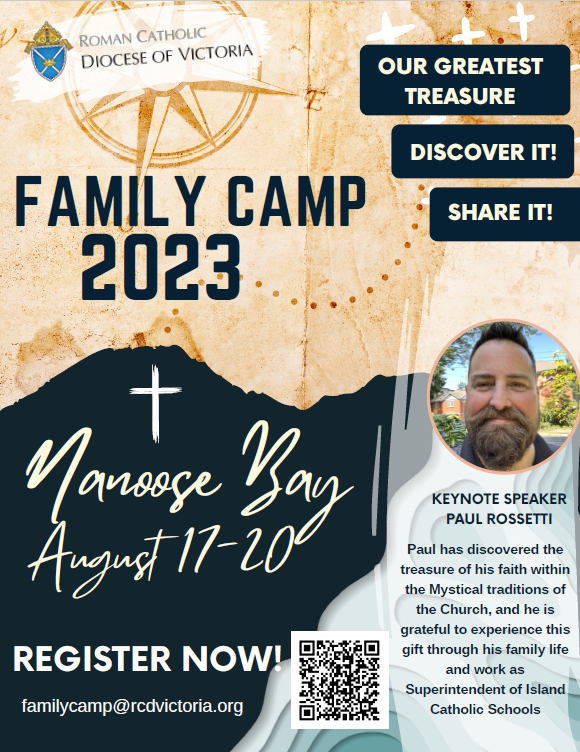 Click here for a printable version of the poster
The Diocesan Youth Conference is the premier youth ministry event in the Diocese of Victoria. This weekend is full of amazing music, powerful and inspiring talks, great friendships, and a lot of fun activities like a dance party, giant slip-and-slide, soccer game, and more.
Check us out on Instagram @vicdyc, or get in touch with us at teamdyc@gmail.com.