Events & Groups for Youth and Young Adults
The Diocese of Victoria offers opportunities for retreats and fellowship for youth and young adults. Click on the links below to learn more.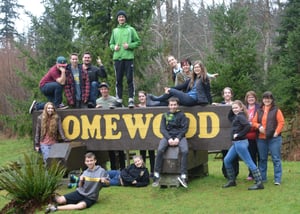 This annual retreat for youth in grades 7 – 12, held the first weekend of February at Camp Homewood on Quadra Island, began in 2000. Youth from across the Diocese of Victoria and from Powell River gather for Prayer, Praise, Adoration, Fellowship and to celebrate the Sacraments of Reconciliation and Eucharist. The weekend is organized by a committee from St. Patrick's Parish, Campbell River and Holy Family/Notre Dame Parish, Port Alberni. Youth are led by various retreat teams, most recently FacetoFace Ministries from Saskatchewan and camp activities like horseback riding, sailing, archery and more are led by the volunteer staff of Camp Homewood. For more info contact Terri-Ann Wynans 250-731-7134 wynans@shaw.ca or Bonni Roset 250-203-1518 broset@telus.net.
The Diocesan Youth Conference is the premier youth ministry event on Vancouver Island. This weekend is full of amazing music, powerful and inspiring talks, great friendships, and a lot of fun activities like a dance party, giant slip-and-slide, soccer game, and more.
Check us out on Instagram @vicdyc, or get in touch with us at teamdyc@gmail.com . We can't wait to see you at DYC!
Lifeteen
Sundays, 1:30 – 3:30 PM (except long weekends)
Your faith is not meant to be lived by yourself. It is meant to be lived in relationship with Jesus, and with friends.
At St. Andrew's Cathedral, we provide a space and time when you can experience Jesus, learn about him, and become friends with other people your age who also want to have this relationship with God. We hope that through our events, the relationships you form with our team members and friends, and personal encounters with Jesus, that you will become a lifelong disciple.
We host Lifeteen every Sunday (except long weekends) in the basement of the Cathedral (access off View Street) from 1:30 – 3:30 PM.
For more information, visit our Instagram @standrewsyouthmin , email us at standrewsymc@gmail.com, or call/text Nathaniel at (250) 731-8405.

Young Adult Group at St. Andrew's Cathedral
Sundays, 6 – 9 PM
Are you a young adult looking for fellowship? We invite you to join the Young Adult Group at St. Andrew's Cathedral! We meet Sundays from 6-9pm in Seghers Hall, in the basement of the Cathedral. We start with a potluck meal, followed by a practical presentation focusing on various aspects of our faith. We conclude with a time of prayer together in the Church.
For further information contact Anastasia Pearse and Natalia Zapotoczny at yagvictoria@gmail.com.