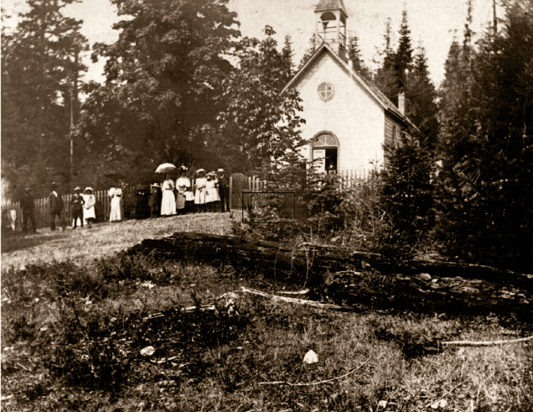 Parishioners outside the church in 1902
Before there was a church in Mill Bay, the Irish and French workers would attend Mass in the mill itself. By 1887 these pioneer families had built the church that still stands today. They named the church after St. Francis Xavier, the 16th century missionary who said, "Lord, I am here! What do you want me to do?" and that missionary spirit of always adapting, of rising to the next challenge, holds strong to this day.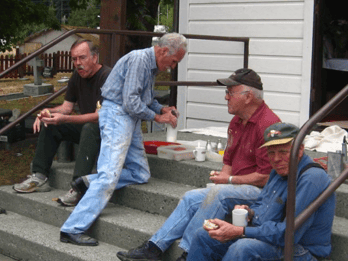 The painting crew at St. Francis Xavier taking a well-earned break
St. Francis Xavier's is a small wooden church with its own graveyard. Mike Mills, who is on the Finance Committee, noted that most of the people who built the church are still there – in the cemetery! Over the years, parishioners have painted the church, cut the grass and fixed the fences and one even painted the stations of the cross. In 2012, they built a Welcome Centre. One parishioner makes cards for those who are recently bereaved or unwell. Fr. John Laszczyk, the Parish Administrator, is getting more young people involved to continue this tradition. Pauline, parish Administrative Assistant, says that, although the parish is small, it has been blessed with three vocations.
Joyce Hackett-Kennedy, Chair of the Pastoral Council, says, "In our faith community we have a lot of young families and a lot of seniors. It makes for a vibrant community." She expects that the parish will soon be expanding because Mill Bay is becoming a bedroom community for Victoria.
The social side of St. Francis Xavier has always been strong. Mike said when he arrived in the parish he was welcomed during the sign of peace, invited to coffee and has never looked back. There was no better experience as a new parishioner. COVID-19 has stopped the coffee for now, so volunteers have been phoning the elderly and shut-ins to keep in contact.
Mike also says that here is a unique bond amongst the Christian churches in the area. A Christian Men's fellowship would alternate meeting at the Anglican and United Churches with music from the Salvation Army. Pauline adds that when one fellowship was planning an event - such as a strawberry tea, they would check with all the other churches to ensure everyone would be available.
During COVID-19, St. Francis Xavier parishioners have needed to find larger spaces to accommodate social distancing, and one of their temporary meeting spaces is St. John's Anglican Church. Pauline says, "It is nice now that we have had the opportunity to join with them again, albeit distantly."
Joyce smiles when she says that the offer of a second place to hold Mass has been an unexpected answer to her prayers. It is Arbutus Ridge Golf Club. Joyce says that when the offer to use the Club came in it taught her a valuable lesson in trusting God to provide. "At the beginning of the pandemic I was searching everywhere, trying to find a place to hold Mass," she says. "We had spent so much time looking, making phone calls and sending emails, all to no avail."
Joyce's message to our Diocese comes from this experience. "Let go and Let God!" she says. "The more you try to control things, the less control you have. Especially when you are the type who likes to make things happen."