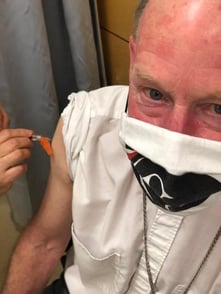 It's a happy day for the Diocese of Victoria – Bishop Gary received his first Covid-19 vaccine dose this morning! We haven't beat this virus yet, but every time someone gets their shot, we're one step closer to the day when we can get back to the liturgical gatherings, activities, visits and community we've all been missing.
Are you curious about the ethical issues around the Covid-19 vaccine? Is it okay for a Catholic to get vaccinated? The short answer is yes!
Here's a great summary from The Catholic Bishops of Alberta and the Northwest Territories: https://www.cccb.ca/wp-content/uploads/2020/12/2020_12_02_Letter-to-the-faithful-on-Vaccines.pdf_English.pdf
More background from the Canadian Council of Catholic Bishops: https://www.cccb.ca/wp-content/uploads/2021/03/CLARIFICATION-CCCB-Statement-on-COVID-19-Vaccine-Choice-9-March-2021-EN.pdf
And the official word from the Vatican's Congregation for the Doctrine of the Faith:
https://www.vatican.va/roman_curia/congregations/cfaith/documents/rc_con_cfaith_doc_20201221_nota-vaccini-anticovid_en.html
Please continue, in the words of Dr. Bonnie Henry, to be kind, to be calm, and to be safe!