The Diocese of Victoria has contributed $1.25M towards the Canadian Conference of Catholic Bishop's Indigenous Reconciliation Fund. Applications are now being accepted from groups that wish to access these funds.
- The next application deadlines is March 31, 2023 -
All grants will be made to local projects and initiatives related to:
Healing and reconciliation for communities and families
Culture and language revitalization
Education and community building
Dialogues involving Indigenous elders, spiritual leaders and youth, with a focus on Indigenous spirituality and culture
Grant applications will be reviewed by the Diocese of Victoria Indigenous Reconciliation Fund Committee, who will identify the projects that will have the maximum positive impact in our diocese. The Committee will work closely with local Indigenous partners to ensure that the proposed projects are deemed by Indigenous communities as being significant and meaningful in terms of facilitating reconciliation.
The members of the Diocese of Victoria Indigenous Reconciliation Fund Committee are listed below; click on their names to learn more about them.
For more information, please contact the Committee at irf@rcdvictoria.org or 250-800-3167.
Indigenous Reconciliation Fund Committee Members

TEALIYE (ta-a-th-le-ut), Brianna Bear is from the Songhees/ Lekwungen Nation in Victoria through her father's side with roots to the Namgis Kwakwaka'wakw people in Alert Bay through her mother's side.
She is the oldest of eight siblings from three parents whose backgrounds are Songhees, Kwakwaka'wakw & Nuu chah nulth.
TEALIYE was brought up around her father's territory of the Songhees people, learning many of the teachings from her grandfather Skip Dick and family members.
Within the past 10 years she has taken on the role of welcoming people to the territory, establishing her art to tell stories through her designs and most recently becoming a mother.
Tsulotsulwut (Carmen George)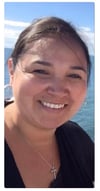 Hello, my name is Tsulotsulwut, my English name is Carmen George. I was born & raised here on Penelakut Island, where there was once a residential school. My mother attended here on Penelakut Island, and I am a first generation survivor of the IRS system.
I have four children and two grandchildren.
I've been a certified dental assistant for 18 years now & work in my community with a dentist, hygienist & dental therapist.

Fr. Dean Henderson has been the Pastor of Our Lady of the Rosary Parish in Lanford since 2019, after serving for 12 years as the UVic and Camosun chaplain, as well as 4 years as the Pastor of St. Rose of Lima in Sooke. After a sabbatical/mission in the Diocese of the Yukon in 2012, Fr. Dean has been committed to a healing path of friendship with Indigenous Peoples. The Parish of OLOR has been a cultural home for Nuu Cha Nulth peoples, particularly the local Ahousahts, and he regularly visits the nations of Pacheedaht and T'Sou-ke. As a former Anglican priest who was received into full communion with the Catholic Church in 1999, Fr. Dean is married to Linda with whom he has 5 grown children and three grandchildren.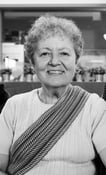 Bertha Landrie is a French Cree Metis Elder. She is a Metis Role Model for SD61 and SD 62, and she and her husband Joe are members of the Elder's Initiative at Camosun College. Bertha is a Metis History and Culture Presenter, and a Co-founder and Matriarch for MLRC, a Michif Revitalization Program. Their website, www.speakmichif.ca, is a learning tool to help teach and promote the Michif Language.
Oo-Kla-Shish ?Uu-Kwa-Qum is from Manhousaht/Ahousaht and lives and works in Greater Victoria as an advisory teacher for SD61 and a reservist in the Canadian Forces. ?Uu-Kwa-Qum is the hereditary Chief (Haa-wilth) of Manhousaht or Mot-nos. James is also an artist and foster parent, and a survivor of Christie Residential School.