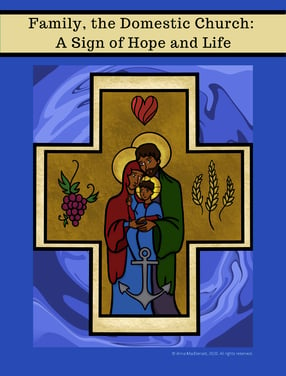 You probably know that Sunday, May 9th is Mother's Day. But did you know it's also the start of the National Week for Life and the Family? The week is celebrated annually by the Church in Canada; this year's theme is "Family, the Domestic Church: A sign of Hope and Life."
Archbishop Richard Gagnon, the President of the Canadian Conference of Catholic Bishops, has published a letter to families to mark the occasion. In it, he talks about the Church's mission to proclaim the good news: "This mission to the world is meant to be carried out not only by bishops, priests, and religious, but it is for lay people and families too". He prays that through the grace of baptism and the intercession of the Holy Family, Catholic families will be able to live their lives as a domestic church. "Empowered by the Holy Spirit, you will be a sign of hope and life attracting others to the beauty of God's saving love in Christ Jesus."
The CCCB has suggested some activities that families can do to celebrate the week. These ideas could all be adapted to work over the telephone or Zoom, for families who can't gather in person due to distance or Covid restrictions:
Print out this year's prayer card and use it to pray with your family

Take some time as a family either after supper or before going to bed to share what God has done in your life. Give thanks to God for the blessings that you have received.

During the week before the next Sunday, take time as a family to read the Mass readings and share your thoughts on them
Participate in the annual March for Life on Thursday, May 13 – Victoria's event is being held virtually this year.
Families with school-aged children might also enjoy baking a batch of Bible cookies!
They have also provided a list of digital resources, which include a little something for everyone:
How will your family celebrate this year's National Week for Life and the Family?