May is always a month dedicated to our Blessed Mother Mary. This year, Pope Francis is encouraging Catholics across the globe to mark the month in a special way, with a "marathon" of prayer for an end to the Covid-19 pandemic.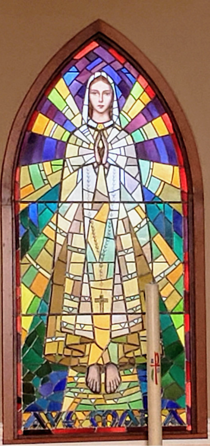 Window in Our Lady of the Rosary Church, Langford, BC
Each day in May at 9:00 am Pacific Time, Vatican News will broadcast a recitation of the Rosary from various Marian Shrines around the world. The broadcasts can be viewed online here.
Bishop Gary hopes that Catholics in the Diocese of Victoria will participate. "This is a very worthy initiative," he says, "an amazing learning and praying experience at the beginning of the day to create an awareness of our global interconnectedness as brothers and sisters."
More information about the prayers that will be said, and a list of the shrines and special intentions which will be featured each day, can be found here. Canada's national Marian shrine, Notre Dame du Cap, is scheduled for the broadcast on Sunday, May 23rd.
Hail Holy Queen, Mother of Mercy, our life, our sweetness, and our hope. To you do we cry!