The 10th World Meeting of Families (WMF) will take place this month from June 22-26. Held approximately every three years since 1994, the WMF features a Festival of Families, a program of talks and workshops on issues that affect family life, and a special Mass with the Pope. The theme for this year's WMF is "Family Love: A Vocation and a Path to Holiness."
WMF 2022 will be physically hosted in Rome, but due to the ongoing pandemic, attendance had to be limited. Faced with this reality, the organizers worked to create an event that people could participate in both in-person and remotely. Pope Francis described the situation as "an opportunity provided by Providence to create a worldwide event that can involve all the families… In this way, everyone will be able to participate, even those who cannot come to Rome."
The WMF 2022 website has lots of resources for families participating from home, including prayers and hymns, reflections with questions for families to read and discuss together, and videos to watch. Some of the in-person events will be livestreamed on the website, and you can even sign up for a virtual "journey" that walks you through the WMF experience.
Groups around the world are also organizing their own events related to WMF 2022. Here in Canada, the Canadian Conference of Catholic Bishops invites families across the country to participate in an online "Rosary for the Family". This live Zoom event takes place on Father's Day, Sunday, 19 June 2022, at noon PDT. Featuring different families and voices from across Canada, it is an opportunity to gather in prayer with other faith-filled families. More information and a link to register are on the CCCB website.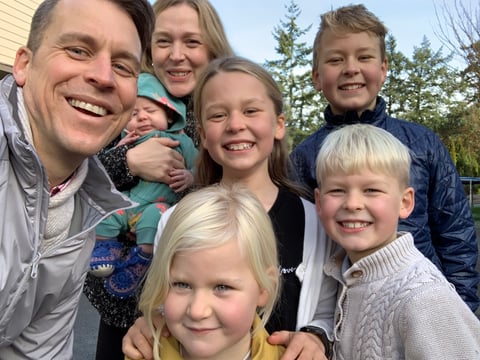 Among the limited number of people who will attend WMF 2022 in person are a family from our own diocese. Mark and Ulrika Wismer and their five children are parishioners at St. Francis Xavier Parish in Mill Bay. They heard about the World Meeting of Families from friends who had attended in the past. "We thought that it would be an amazing experience for our family and we hoped it could be something in which our whole Diocese could share", says Ulrika. "We continue to pray that many fruits for our Diocese will come from this trip."
Please keep the Wismers, and all the families participating in WMF 2022 in your prayers. In the words of the official WMF 2022 prayer:
Lord, grant that each family
might live their specific vocation to holiness in the Church
as a call to become missionary disciples, in the service of life and peace,
in communion with our priests,
religious, and all vocations in the Church.
Bless the World Meeting of Families.
Amen.