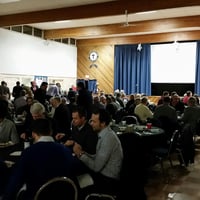 Our Lady of the Rosary Parish hosted a 'Men's Supper' on January 26, 2019, with the hopes of developing more fellowship between men of the Diocese of Victoria. This is the second event of this type for Our Lady of the Rosary Parish. In September 2018, a group of women from the Parish organized the first annual 'Mom's Mingle.' This event was extremely successful and gathered approximately 100 women from the Victoria area. Seeing firsthand the success of the event and identifying the need for men to meet and grow in fellowship, a committee was formed to deliver a men's event.
Four months later, 130 men from across Victoria gathered at Our Lady of the Rosary Parish hall to enjoy good food, company and to hear Fr. Dean Henderson and Danny Brock speak about being 'the son of my father and father of my children'. Men were welcomed upon arrival by a three-vehicle car show: a Rolls Royce, a Dodge Ram Limited, and a Jeep Cherokee Trail hawk. The atmosphere inside the hall was one of excitement and anticipation. The speakers delivered excellent speeches that stirred all in attendance. The evening ended with door prizes and a single rose to take home to whomever was waiting.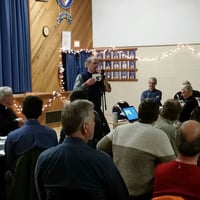 The first annual 'Men's Supper' was a resounding success. Among the goodbyes at the end of the night were many requests that this become an annual function. The success of this first event speaks volumes for the need to have events where men can gather in fellowship and spend time growing their relationship with each other and God. Keep an eye out for advertising for next year's 'Men's Supper' because the organizing committee is already discussing ways they can improve on the dinner for next year!
Written by Tyson Babcock, Organizing Committee Member