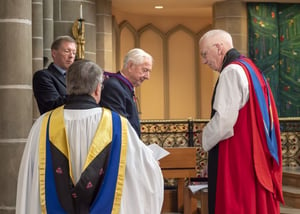 On the 20th of October, 2018, in the beautiful Anglican cathedral of Christ Church, Bishop Emeritus Remi de Roo, of the Roman Catholic Diocese of Victoria, was invested into the Order of the Diocese of British Columbia, as an Honorary Officer. This was the inaugural installation of the Order by the Anglican Diocese; many beautiful stories were told of community members and their service to God and the Church community.
Beyond the Anglican faithful however, Honorary Memberships were given to individuals outside of the Anglican faith whose work exemplified the ideals of the diocese. As the sole Honorary Officer, our former Bishop Remi de Roo, was recognized for his contribution both within the Diocese of British Columbia and beyond into BC and Canada.
Recalling his years of knowing Bishop Remi, Bishop Logan remarked, "Remi's life has been dedicated to the gospel. A man of great honour, he has shown and created a spirit of ecumenism within his own diocese. With great dignity, he has continued to tell the story of Vatican II throughout the world. Throughout his ministry he has been a voice for the voiceless."
The Investiture was followed by a large reception in Christ Church's hall. Bishop Remi was congratulated by both friends and those who have long heard of his life time commitment to bringing God's word into fulfillment here on earth. What a great honour, both to the man and to our Catholic Diocese!
Written by Monica Nelson
Photograph by Onnig Cavoukian