During the month of November students and staff at St. Andrew's Regional High School (SARHS) focused on the theme of peace. One of the ways that the school community worked on this was in the creation of a communal art project entitled Tree of Life.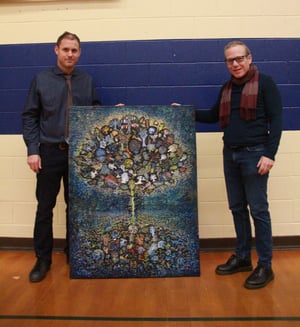 This mixed-media piece is a gesture of solidarity with the Tree of Life Synagogue that was recently harmed by a violent act. Our art is a prayerful meditative call for a more peaceful world. Inspired by the symbol of the Tree of Life, students and staff have created a large tree that reflects the beauty and variety of creation. This intricate design reminds us of the interconnectivity of all things, the energy of creation, and the goodness that comes when we reach out to others.
This work of art of was presented at the recent assembly to Rabbi Harry Brechner of Congregation Emmanu-El as a gesture of solidarity and an expression of peace.
Prints of this beautiful collaborative work of art are available for purchase. SARHS has teamed up with the Print Lab and are now offering Fine Art quality prints of this painting on both a Metallic Rag paper and as a Metallic gallery canvas wrap on ¾" canvas. For every purchase, the Print Lab will make a minimum donation of 25% back to the school building fund. Please see the price list below for pricing info. All orders can be placed directly with Terry or Richard at the Print Lab (see below for contact information).
The metallic paper/canvas really adds light and depth to the image and creates a very unique and beautiful effect. Mr. Boucher has purchased one on 3/4 inch canvas and it should be completed and available to view by the end of the week. You can also drop by the art room if you would like to see a sample printed on the metallic rag paper.
Please see the attached price list below for more information. These are Fine Art quality prints that use a 12 ink system using inks that are guaranteed not to fade over time.
To order please contact Terry or Richard at Print Lab
Email: info@theprintlab.ca
Phone: (250) 590-3373
Web: theprintlab.ca
Tree of Life

8 x 10

11 x 14

12 x 16

16 x 20

18 x 24

24 x 30

Metallic Rag

$25.00

$40.00

$45.00

$60.00

$75.00

$105.00

Metallic Canvas

$89.00

$99.00

$110.00

$125.00

$145.00

$200.00

Pricing includes a minimum donation of 25% to the St. Andrew's Regional High School Building Fund. All prints on archival papers printed with pigment inks. Other sizes, discounted sets, and custom frames are available on request - please contact us with your ideas for more