As Christians around the world began their Lenten journey, parishioners at St. Elizabeth's parish engaged in something special to create community awareness and also unite with others around the world. The parish invited parishioners and community members to walk together in solidarity with the Refugees and Migrants who are being 'forced to flee'. Share the Journey Walk took place on Sunday, March 10, 2019—also the 33rd National Migrants Day.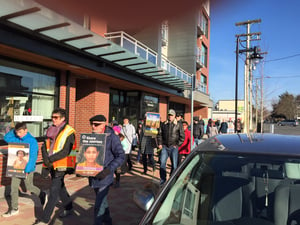 Led by the parish's youth, the walk proceeded down Third Street towards Beacon Avenue and then to Fifth Street and down to Henry Avenue, and ended at the church with Mass at 10:30am. Participants carried placards and posters that express the refugee plight.
Did you know ...
Every minute, 31 people are forced to leave their homes.
The majority of them live in the poorest countries in the world under extremely difficult conditions.
Armed conflict, climate change, development mega-projects, persecution … The causes of forced displacement are multiple, interwoven and complex.
Without inclusive and participatory democracies that respect human rights, forced migration will only increase.
During Lent, we reflected upon ourselves and what changes we can make to bring our world to a better light. Our message is about Hope … for all of those who are forced out of their homes due to conflict and economic strife both Nationally as well as Locally in our own cities.
More information is available at: https://www.devp.org/en/education/fall2018/action