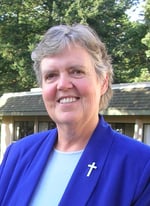 THOMSON, Sister Elizabeth Ann, SSA (Sister Mary Daniel) 1942–2019. Sister Ann died at Mount St. Mary Hospital on December 2, 2019 at the age of 77. Born in Victoria, BC, she was the eldest of five children born to Henry and Pearl (Hartney) Thomson.
Ann graduated from St. Ann's Academy, Victoria, BC. Ann entered The Congregation of the Sisters of Saint Ann in 1960, professing her vows in 1962. She received her B.Ed. at the University of Victoria 1972, her M.Ed. at Boston College in 1977 and her Certificate of Theological Studies at the Jesuit School of Theology, Berkley, in 1987. Sister Ann's gifts of simplicity, humour, and compassion drew people to her. She taught throughout BC and northern Canada, with an emphasis on adult faith education and development. Sister Ann worked with Indigenous and other professional resource people to develop a workshop model for healing and reconciliation called Returning to Spirit that is now used nation-wide. She also helped establish Providence Farm in Duncan.
Sister Ann is survived by members of her Religious Community, her brothers Edward (Jeanie), William (Maureen) and Daniel (Ginny), sister-in-law Kathy, many nieces and nephews and friends. Sister Ann is predeceased by her brother Michael (1996). Condolences may be offered at www.sandsvictoria.ca.
---
Read more about Sister Ann ...
The world was at war in 1942 and Harry Thomson was overseas when his wife gave birth to their first child, Ann. She was three years old when her Dad returned to his family who were living with his mother. Within the next few years three boys, Ed, Bill and Michael were born and later when Ann was in Grade 12, her youngest brother, Danny arrived. Ann had fond memories of her childhood. She remembers her father for his fairness, good humor and ability to make people feel at ease. Her mother was very warm and welcoming, and had tremendous faith in Divine Providence. Fostering the Catholic faith was important for both of her parents. Ann loved her brothers unreservedly and enjoyed the endless hours they spent together with the neighborhood kids at Willows Beach.
Ann attended St. Ann's Academy from Grade 1-12, travelling 40 minutes each way on two buses to get to school. She was an active member of the Sodality of Mary and in Grade 12 while she was working with Sister Mary Dolina (Marion MacIntyre) she had a sense that God was calling her to religious life. Ann was fun loving and mischievous, a most unlikely candidate for the novitiate! The call, however, was deep and persistent. She entered the novitiate in 1960, bringing her fun-loving ways and mischief to enliven the life of the community.
Ann took her first vows in August 1962. From 1962-64 she studied to obtain her teaching qualifications. For the next seven years, Ann taught in various places including Nanaimo, Vancouver, Victoria, Penticton and New Westminster. In 1971, she formed part of a team that operated a Boarding Home in Victoria that replaced the Boarding School at St. Ann's Academy. During that year, she completed her studies leading to a B.Ed. from the University for Victoria. In 1972, Ann taught in Port Alberni. After one year as an elementary school teacher, Ann found her truest calling in adult faith education and development. She was the first Catechetical Coordinator in the parish. During the next 5 summers, Ann studied at Boston College earning a M.Ed. in Religion. Ann writes in her memoirs," The pastor asked me to train the parents to do the teaching. After 3 years, the Bishop asked me to form local lay leaders and to work myself out of a job. There were no blueprints, but I realize this was the beginning of a pattern I have followed in each new ministry."
In 1979, Ann moved to a new venture living with two other Sisters and several lay people at what has become Providence Farm in Duncan. Their mission was to reactivate the land, form Christian community and respond to the "needy" in the area. They also needed to find funding, so Ann worked ½ time for the Diocese of Victoria doing leadership training and RCIA. In 1983, she became Director of Religious Ed. For the Victoria Diocese. In 1986, after the death of her mother, Ann asked for a Sabbatical and went to the Jesuit program of Spirituality and Liturgy in Berkeley, CA. Ann described this as "being a very holistic renewing experience for her".
In the fall of 1987, Ann responded to a call to the Missions and moved to Yellowknife in the Diocese of Mackenzie-Fort Smith. She lived in an inter-congregational, mixed community comprised of three Grey Nuns, one Felician Sister, two SSA's, a laywoman and an Oblate Bishop. She began to do Adult Religious Education among the Aboriginal people. After only one month, she returned to Victoria for major surgery. Four months later, she was back in the North and began working on the Diocesan Synod to determine the needs of the diocese in the areas of sacramental preparation, liturgical celebrations, adult faith development and spirituality. She travelled with Bishop Croteau to all the missions and parishes engaging the people on these topics. Ann's gifts of simplicity, humor, intuitive insight, compassion, gentleness and inviting presence drew people to her. The gifts of the Dene and Inuit women were drawn forth and affirmed by her. The need for healing and reconciliation became paramount and the Bishop asked Ann to find a way to address this issue. She met Marc Pizandawatc, an Algonquin man facilitating healing workshops among Indigenous people. Ann began to envision a healing and reconciliation model that would move the participants from one of blame and resentment to one of hope and opportunity. Mark and Ann worked with Indigenous and other professional resource people and developed a model called Returning to Spirit that is now used nation-wide. Mark, himself attests that Ann helped him personally discover forgiveness through her spirit that permeated their working relationship.
In 2004, after 17 years in the North, Ann generously responded to the call of her community to province leadership. At the end of her first 3-year term, she realized she would not be able to continue. In 2008, she was diagnosed with Alzheimer's disease. She moved to Mt. St. Mary Hospital in 2012. Anyone who has journeyed with Ann during these last 11 years recognized that her spirit of welcoming and affirmation continued to shine through her to others.
In mid-November 2019, Ann suffered a medical episode. During the next 2 weeks, she went through a gradual process of weakening her hold on life here on earth. Her family, community companions and caregivers lovingly experienced this process with her. Just after midnight, on December 2nd Ann peacefully entered eternal life. May she rest in peace and pray for us.
by Mary Ellen King SSA