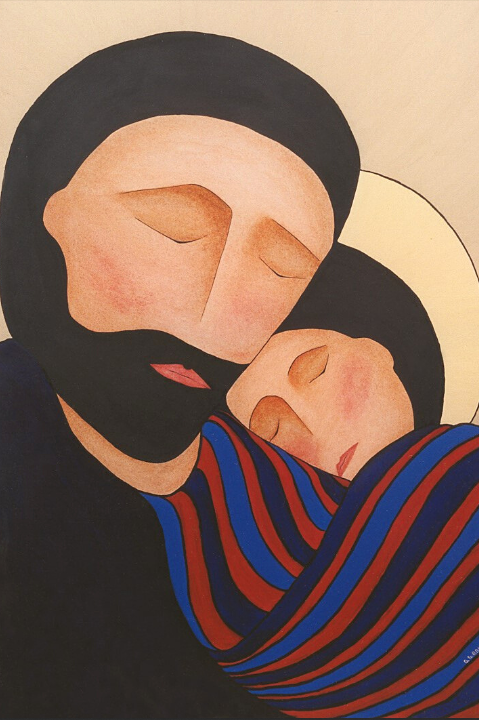 "Joseph and the Child," by Gisele Bauche
We've just passed the halfway point of the Year of St. Joseph that was proclaimed last December. To help usmark this special year, the Canadian Conference of Catholic Bishops has announced a national Novena and Act of Entrustment to Saint Joseph, to be held from June 22 – July 1st.
For each of the nine days between June 22 and June 30, the CCCB has provided a reflection, a prayer, and a call to action (click here to view). Catholics in Canada are invited to participate in this Novena to implore Saint Joseph's intercession for the welfare of the entire country, for the many needs of society, and to pray in particular for those who passed away due to COVID-19, the children who died in the residential schools era, and the healing that truth can bring.
Then, on July 1st, Bishops across the country will celebrate the Act of Entrustment to Saint Joseph in their respective dioceses. You can participate in the Diocese of Victoria's celebration by tuning in to the 7:00 pm PDT livestream Mass at: https://www.youtube.com/c/RCDVictoriaLiveOne.
The CCCB has also created a website full of resources related to St. Joseph, including prayers and devotions, guided video reflections, children's activities, and relevant church documents:
https://www.cccb.ca/evangelization-catechesis-catholic-education/celebrating-the-year-of-saint-joseph/
St. Joseph, Protector of the Holy Family, Patron of the Universal Church and Patron of Canada, pray for us!