If you've been following our News posts, you'll know that we're in the middle of a special week for Life and the Family and a special month of prayer to our Mother Mary, for an end to the pandemic. Well, this year is special too: back in December, Pope Francis proclaimed the Year of St. Joseph, beginning on the Solemnity of the Immaculate Conception (December 8th), and continuing to the same feast in 2021.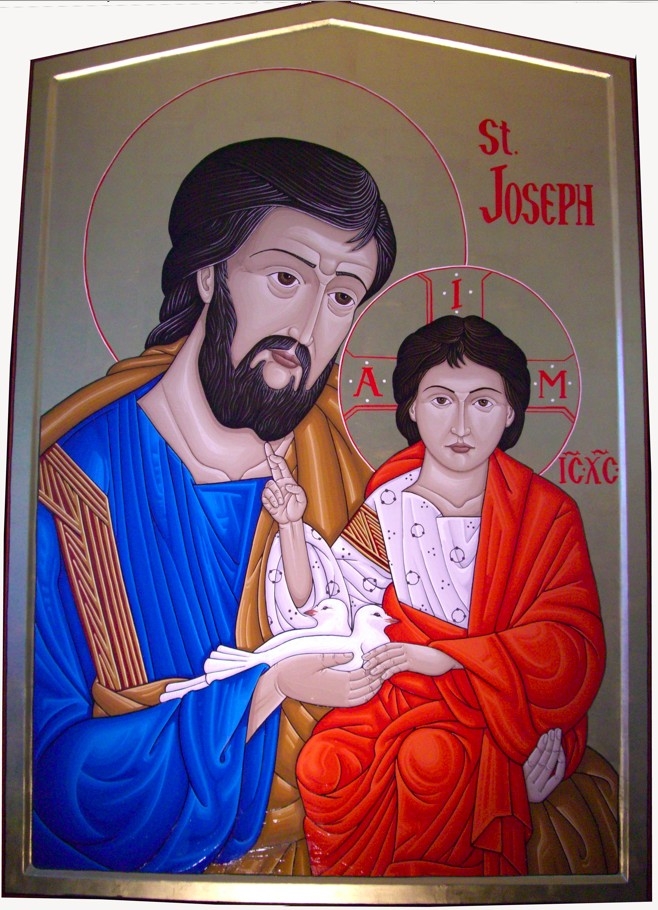 Icon of Joseph and Jesus, from St. Joseph the Worker Church, Victoria
This year was chosen as it marks the 150th anniversary of Blessed Pope Pius IX's declaration of St Joseph as Patron of the Universal Church. St. Joseph is the patron saint of many other things as well, including the Americas and Canada. Many Canadian churches are named for him: St. Joseph's Oratory in Montreal, Quebec is the largest church in Canada; closer to home, we have three different churches dedicated to St. Joseph in our Diocese, in Tahsis, Chemainus, and Victoria.
Pope Francis wrote an Apostolic Letter entitled Patris Corde ("With a Father's Heart") to mark the start of the Year. In it, he describes St. Joseph as a beloved, tender and loving father; an obedient, accepting and creatively courageous father; a working father, and a father in the shadows. He also notes how St. Joseph, "the man who goes unnoticed, a daily, discreet and hidden presence… reminds us that those who appear hidden or in the shadows can play an incomparable role in the history of salvation" – an important reminder during this pandemic, when we've seen how "our lives are woven together and sustained by ordinary people, people often overlooked."
Pope Francis ended his Letter with a prayer to St. Joseph. During this year, let us join with Catholics around the world in praying to this special saint:
Hail, Guardian of the Redeemer,
Spouse of the Blessed Virgin Mary.
To you God entrusted his only Son;
in you Mary placed her trust;
with you Christ became man.
Blessed Joseph, to us too,
show yourself a father
and guide us in the path of life.
Obtain for us grace, mercy, and courage,
and defend us from every evil. Amen.