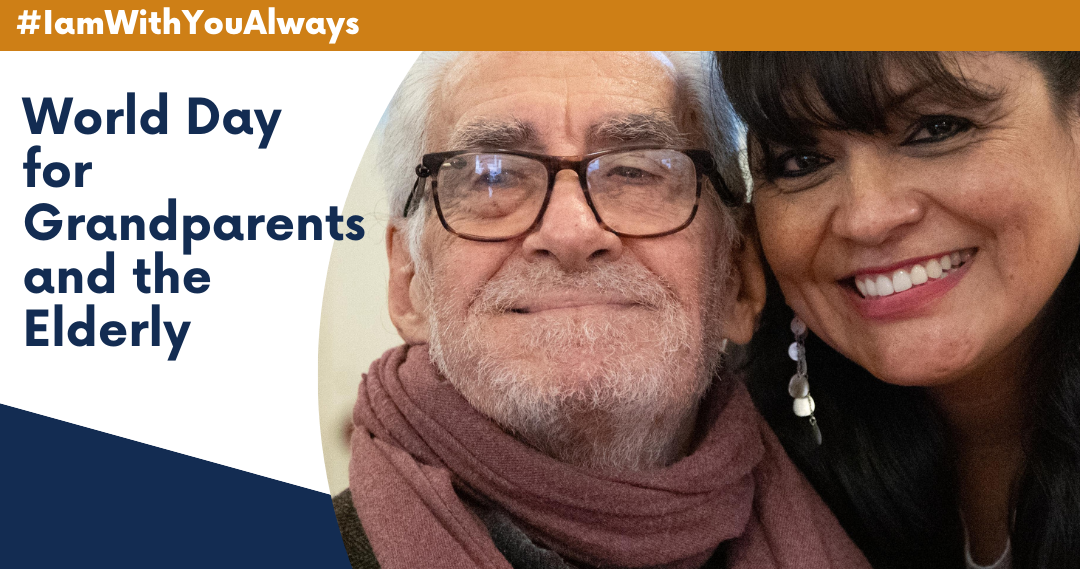 "I am with you always". This is the theme Pope Francis has chosen for the first World Day for Grandparents and the Elderly, which will be celebrated this Sunday, July 25th.
The fourth Sunday in July was chosen as the annual date for the new World Day as it falls close to the feast of Saints Joachim and Anne, the grandparents of Jesus. Pope Francis has written and spoken about Grandparents, Elders and the Elderly many times during his papacy (a collection of his thoughts was recently made available online). In his words, "Our elders are men and women, fathers and mothers, who came before us on our own road, in our own house, in our daily battle for a worthy life. They are men and women from whom we have received so much… Where there is no honour for the elderly, there is no future for the young."
The Pope has also released a special message for this first World Day – you can read it online or watch the video message. In it, he acknowledges that this day comes at a difficult time; the pandemic has been hard for everyone, but especially for elderly people. However, he reminds us that "the Lord is aware of all that we have been through in this time. He is close to those who felt isolated and alone, feelings that became more acute during the pandemic."
Pope Francis also asks the elderly to consider their special vocation at this time. The post-pandemic future, he says, depends on the covenant between young and old: "Who, if not the young, can take the dreams of the elderly and make them come true? Yet for this to happen, it is necessary that we continue to dream. Our dreams of justice, of peace, of solidarity can make it possible for our young people to have new visions; in this way, together, we can build the future. You need to show that it is possible to emerge renewed from an experience of hardship. I am sure that you have had more than one such experience: in your life you have faced any number of troubles and yet were able to pull through. Use those experiences to learn how to pull through now."
So, how can we mark this new World Day? First and foremost, the Pope asks people to visit the elderly as a tangible sign of our Church of outreach. This visit could be a chance to share the Pope's message, to read the World Day prayer together, or maybe to watch the CCCB's video message. If in-person visits aren't possible, connecting by phone or video chat is another alternative. Social media users could even share pictures of their visits online with the hashtag #IamWithYouAlways.
Pope Francis also hopes as many elderly people as possible can attend Mass on or around July 25th. Younger people might be able to help with transportation, or if in-person attendance isn't feasible, participating in Mass through the television or the internet is also an option (for example, through the Diocese's livestream).
At Mass on July 25th, we're all asked to take a moment to recall the elderly people in our parishes and communities who died as a result of the pandemic, and in particular those for whom it has not been possible to hold a funeral service. You could do this privately, or your parish might do it together. Your parish might also include special Prayers of the Faithful or a final blessing for this World Day.
To mark this special occasion, Pope Francis has granted a plenary indulgence to all those who participate in World Day for Grandparents and the Elderly activities. You can read the full decree online.
May God's grace and blessings come to all the Grandparents, Elders and the Elderly of the Diocese of Victoria on this World Day, and always!